Hangar Home overlooking a beautiful pond for Sale
A place to relax and enjoy life, settle into a fly-in mountain vacation home near Jackson Hole, Wyoming click here for details.

5850x50 Jet Friendly Runway
Your access to the world and where the world can access you.
AWOS is HERE!
We are pleased to announce that the AWOS at Alpine Airpark is up and running effective today, April 28, 2015. The frequency for weather is: 119.925.
MORE »
#1 Tax Friendly State
No state income tax, on personal or corporate income Wyomingites have more disposable income.
No personal or Corporate Income Tax!
Wyoming has been cited by Bloomberg Wealth Management Magazine as "the most friendly tax state in the country".
More »
#1 State for Retirement
Practical perks, low crime, great weather and so much to do you won't feel like you are 'retired'.
And Countless Activities to Enjoy!
Retirees looking for out-of-this-world mountain views will find their happy place in Bankrate's No. 1 place to retire in 2015.
More »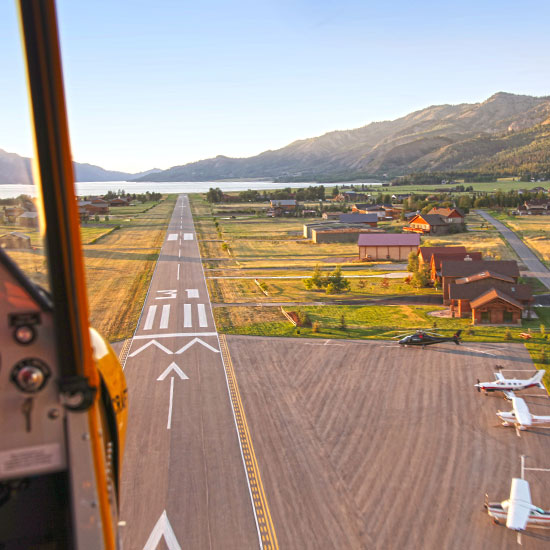 Alpine Airpark – An Adventure Driven Comunity
Alpine Airpark is located just 35 miles from Jackson Hole in beautiful Alpine, Wyoming. This world class fly-in community is set on the banks of the Palisades Reservoir and the confluence of 3 trophy trout streams.
Outdoor activities are endless thanks to the neighboring Bridger-Teton and Caribou-Targhee National Forests that provide 6.4 million acres of public land. Mountain biking, boating, camping, horse-back riding, kayaking, hiking, hunting, skiing, site-seeing, dirt biking, and snowmobiling are a few of the activities that locals enjoy.
Luxury Rustic Mountain Homes | Architectural Innovation In Hangar Home Designs

Plane At The Ready | Twenty paces from your kitchen to your hangar. Not just a dream, here it is a reality.

A variety of Property types and styles to fit every Budget!
Contact Us Today!
Give Flight to Your Dreams Alpine Airpark, Wyoming
Summer is here and temps are in the 80's, perfect for a 46U Vacation to enjoy the beautiful weather and activities. Buy a home here and use it as a Base Camp to everywhere awesome: Yellowstone, Grand Teton National Park, Jackson Hole Mountain Resort, the Frank Church Wilderness - snowmobiling the Greys River! We are at the epicenter of Fun!! Call Bill or Marion today to find out how you can make this dream a reality.
Contact Us Today!